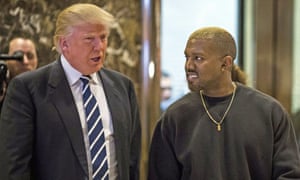 Edit (May 1, 2018): Kanye says that slaves chose slavery.  See more below.
Rapper tweets: 'He is my brother' and Trump calls message 'very cool' in latest sign of mutual affection.
*Rolls eyes*
The working title of the post was, "Kanye, y u no make sense?"
..but I like my current title better.
I'm convinced Kanye West must've been dropped as a child.
Is that nice to say?  No.  But honestly, sometimes Kanye just sounds way out there and I don't know whether he's coming or going or what he's saying or what he stands for anymore.
I know, I know… I just wrote a post about people having the right to say what they want to say and believe what they want to believe.
Kanye can support Trump as much as he wants.  I just wish he would make sense from time to time.
"Maybe he's on another level," I thought.
…
Nah.
First there was "Jesus Walks With Me" and Yeezus with songs like, "I Am A God."
Then there was that time a few years ago when Kanye was on Ellen, and all I could think of was, "What is Kanye saying?"
And his whole social media of late has just been vacuous drivel:
I mean some of his tweets are okay:
But then he's like:
Then he goes from "George W. Bush doesn't care about Black people" to "Trump is my brother"?  Come on now.
Reading his tweets is like reading those books assigned to you in high school English class that you never could understand no matter how hard you tried (Shakespeare anyone? I hated reading The Heart of Darkness.  Sorry Ms. Hommel).  His words are almost cryptic.  Can someone explain Kanye to me? I feel like I need Kanye Coles Notes.
I think the creme de la creme of his foolishness is when he said that slaves chose slavery:
Thank God Van from TMZ put Kanye in his place:
Kanye is fake deep.  He talks and writes like he's perpetually high.
In the words of Shaun King:
Quinta Brunson (love her) had this to say in reply to Kanye:
…and Roxane Gay said it best when she said:
Maybe I misunderstand Ye?  I don't know.  I just wish I knew what he was saying.  And if he and Trump both got that "dragon energy," should we be scared?  One will never know.
Source: Kanye West proclaims his love for Trump: 'We are both dragon energy' | Music | The Guardian