I don't know if it's being thirty or if it's the #RoyalWedding, but this year, in particular, has brought out my inner Bitter Betty.
I think I'm bitter about (still) being single.
(Since this had the potential of being a sombre post, I've sprinkled gifs throughout for the sake of levity. 🙂 )
Lately, when I hear news of pregnancies and nuptials, on the outside, I'm often like this: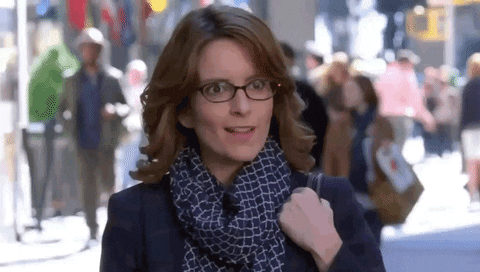 …while on the inside I'm really like: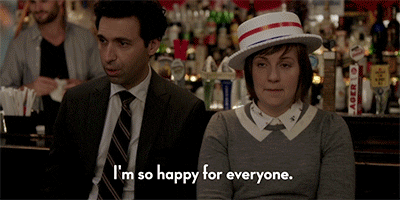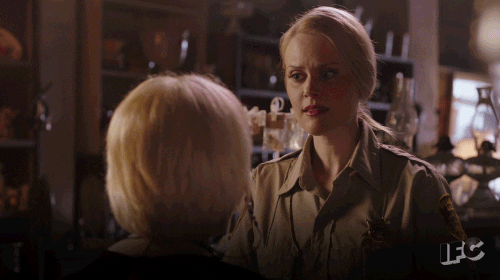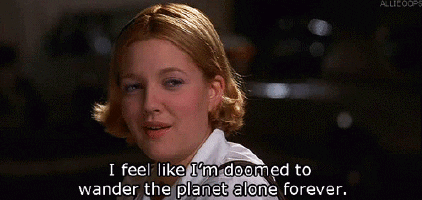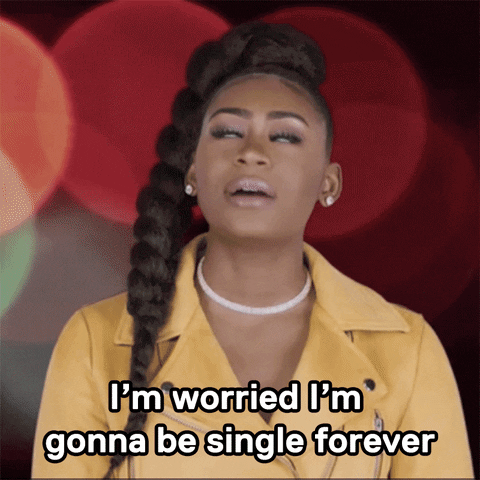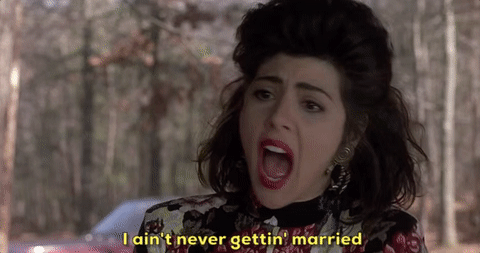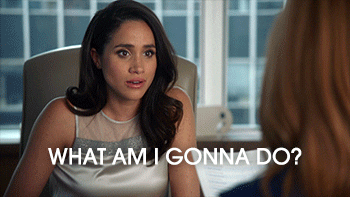 Bitter or sour?  You tell me:
By now, some of you must wonder why I so often write about my love life (or lack thereof).  I write about it often because it often bothers me, and this blog was always meant to be a space for me to write about the things that bother me.  I don't even know why it bothers me as much as it does.  I wish it didn't bother me.  But until I get married, you can plan on seeing more articles on singleness (luckily for you, lol).
(In my defense, even our dear Meghan wasn't always gung-ho about being single).
This post is not for everyone (it's actually for me).  I know that not all of my readers will be able to relate — even if they are single.  After all, not all singleness is created equally.  There are those who are never single for more than five months, and then there are people like me — people in their thirties with very shallow romantic histories who have never been in a relationship and who, insofar as white and thin is the standard of beauty, may not be considered conventionally attractive despite their own unique, individual beauty (not to mention people for whom not just any man will do because of the uniqueness of their path and purpose).
Many articles on the topic of sadness over singleness dole out glib and trite advice: "Don't settle," "Be positive," "Work on yourself."  And I think many people who read this will be tempted to tell me, "Don't worry Simone!  It'll happen when you least expect it!  Have you tried online dating?  Trust God!  You won't be single for long… God has somebody great in store for you!  Have you prayed about it?  Have you considered fasting?"
I am beyond consolation at this point.  The Apostle Paul had his thorn and singleness seems to be mine.  Mentioning Jesus and His plan for my life doesn't encourage me.  The words in my Bible no longer resonate with me.  Certainly, when you are unhappy with other areas in your life, the silence of your personal life becomes amplified.
I may not be bitter tomorrow — the despair comes and goes in waves — but when I am feeling miffed about being single, I don't deny my feelings.  I cry, I bask in my bitterness and do the following to feel better.
Read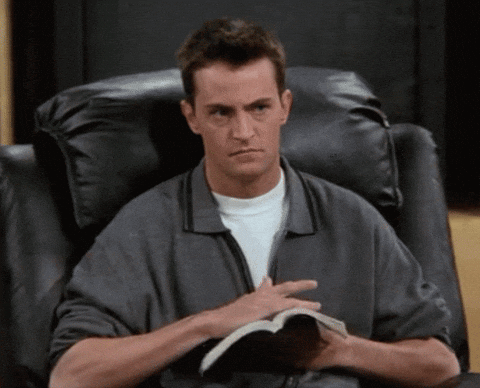 Books have saved my life a million times over.  Reading articles online (NYT Modern Love column and responses on Quora) is my newest guilty pastime.  What the bitter single needs above all is hope.  Any voracious reader knows that reading exposes you to ideas as well as possibilities.  Reading can also change your perspective and give you much-needed affirmation (singles need to be affirmed).
(My recommendations: There is Nothing Wrong With You: 27 Wrong Reasons Why You are Single by Sara Eckel and Party of One by Joy Beth Smith.  Right now I find more solace in them than in my Bible.)
I have read too many love stories – too many – to discount the possibility of love for myself.  Fat people, broke people, ugly people, mean people, stupid people, HIV-affected people, old people, limbless people, former prostitute and stripping and sex working people, serial killers  – they all get married.  I've read about it.  And when the stories of the Bible and the love stories and words from my friends fail to encourage me, reading stories about have people have found love (or how single women are killin' it) give me hope.
I have to remind myself that anything — anything, at any time — can happen:
Abundance vs. Scarcity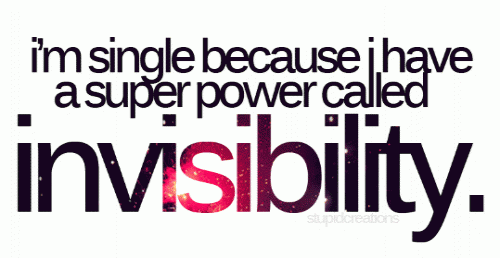 I try to remind myself that if I start thinking that all of the good men are taken and that there are no good men out there, then I will be bitter.  But if I instead remember that the cattle upon a thousand hills are His, and if I believe that there are tons of men out there and that the world is a diverse place and that I don't need to turn every head — I just need to turn the right one — then I start to feel better.
If there is one thing Bumble has taught me, it's that I'm more attractive than I realize.  Scarcity is a fiction.  Our life and our world are more abundant than we can imagine.  Meeting people helps remind me of this, which brings me to my next point:
Meet People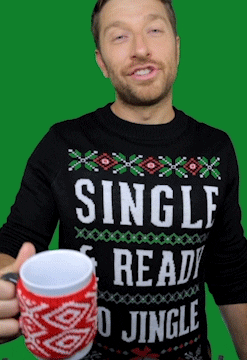 This is a challenge for me.  I am told that I am "outgoing" (go figure).  That said, the idea of "going out there" and actively trying to "meet people" sounds like death to me.  But even if I don't meet "the One," meeting people and forging new friendships reminds me that I actually do have social skills and I can cross  "social ineptitude" as a reason for my singleness off the list.
Getting out there and living my life remind me that the most mundane, innocuous activities can sometimes lead to significant, life-altering connections.  Just last month I went to the Bell store to upgrade my cell phone, and not only did the Bell guy floor me with his customer service, we end up staying past store closing talking about race and politics.  Last week, after I subbed a class at Movati and was going home, I ended up striking up a conversation with the OC Transpo bus driver (which never happens) and to make a long story short, she will be coming to my Aqua Zumba class sometime soon.  When I bought an arepa for lunch today, one of the guys who worked at the restaurant was very happy to see me — in fact, he's always happy to see me, and asks why I don't come around more often.  The potential for new connections are everywhere and are often where and "when you least expect it." (God, I hate that phrase).  You never know what may happen.  And it doesn't even have to be about meeting "the One" — you never know if a new friendship is around the corner.
And plus, let's face it – single people need friends: friends to mitigate the loneliness, friends to commiserate with, friends to cry with, friends to help you move, friends to help you celebrate, friends to cry at your wedding, and friends to help you maintain your individuality once your married – not to mention friends to watch Simone Jr. when you're exhausted and barefoot and pregnant with baby #2.  Friendships often outlast marriages and are one of life's few constants.  Meeting people – whether online or in person — also constantly reminds me that again the world is diverse and vast and that there probably is a lid for every pot.
When I'm in pain or when I'm upset, my first inclination is to isolate.  I'm actually not against isolation.  I find it to be helpful sometimes in order to re-center and collect myself.  But I heard something from a pastor recently and it resonated deeply with me: "Don't let the pain of singleness isolate you from community."
Count Your Blessings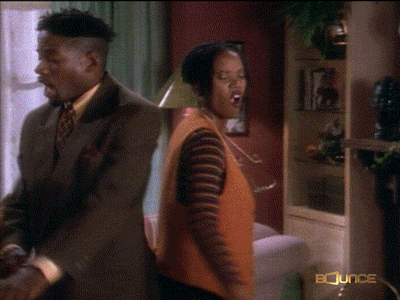 Despite the lack of a love life and the relentless feeling that God does not care about my desires and that He has utterly forsaken me (I know He hasn't actually forsaken me.  It's just that it feels like He has, which practically speaking has the same effect), I have a lot to be thankful for.  I'm not in any physical pain.  I can see.  I can hear.  I am healthy.  I have money in the bank.  I have family and friends who love me.  If I drop down dead today, somebody will notice.  I get to teach Zumba.  I can always find my shoe size.  They just opened up a Shawarma Palace near me.  The weather has gotten better so I no longer constantly think about relocating (Ottawa is still whack though). The list goes on and on.
Many people have been in worse situations and they somehow manage to be happy and do much with the meagre hand they are dealt.  There are many happily divorced people.  It is possible to be single and happy.  You don't need a spouse.  And I have begrudgingly realized that if I am are able to lament not having a partner, then life is probably going pretty well for me otherwise.  Many people don't have that luxury – they are too busy worrying about their next meal.  That doesn't mean that you or I don't have a right to be sad.  You should definitely feel your feelings (more about that later).  But if I was fleeing war or I was starving, or if I was being tortured, if I was unemployed or facing eviction, if I lived with chronic pain, if the doctor gave me two months to live, I think having a partner would be one of the last things on my mind.
When I look back over my life, there are many things that I am still confused about (ahem, why am I still single?).  But God, in His grace and in His way and in His time has given me some insight as to why certain things didn't work out how and when I wanted them to (more about that later).  If I had gotten my way, I would have been more miserable than I am now (not to mention perhaps recovering from a nervous breakdown). I'm convinced that rejection is God's protection, and that every delay has a purpose.  For that, I'm thankful.
Rehearse The Benefits of Being Single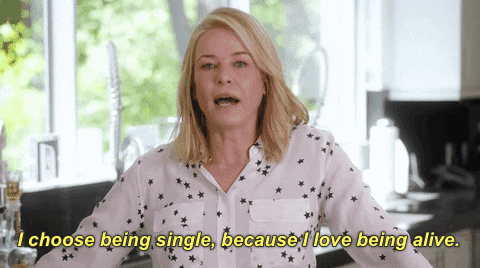 Kinda related to counting your blessings, when I get bitter, I rehearse the many wonderful ways being single is a blessing.  For one, I'm getting paid tomorrow, and I have every intention of spending that whole paycheck on myself – including purchasing a plane ticket to Orlando (my first ZinCon!!!).  I have no shame. I don't have to consult anybody about my spending (praise God).  I don't have to check in with anyone when I travel.  I just travel. I just spend.  I see it, I want it, I get it (I try to save too).
I'm currently typing this blog post sitting naked on my sectional couch.  While I must admit that a future partner may actually appreciate the fact that I like being naked, I couldn't quite do this with children around.  I waltz around my apartment naked precisely because I'm single and I live by myself.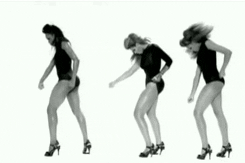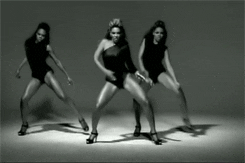 I watched a vid with Aventer Gray who was crying on account of receiving the good news that her husband, John Gray, had been invited to pastor a church in North Carolina.  She was upset because she had to uproot herself and her family again, and start over in a place where she had no friends and knew no one.  While I feel for her, I don't have that concern.  I can plant roots anywhere or not at all.  I don't have to consult any man regarding my career choices.  I don't have to follow any man on account of his career change.
Basically, I do what I want, answerable only to God.
Being single helps me to discover and be myself (praise God).  There was once a guy I had a huge crush on.  I thought he and I would be perfect together.  I got along great with his mom and my parents loved him and the whole she-bang.  We never actually dated.  But in retrospect, I now believe it to be for the best.  He's more religiously conservative than I am.  My friends said he was arrogant.  His mom had on two occasions gently advised me to cover up my cleavage (I wasn't showing much to begin with.  When you have large boobs, you have naturally occurring cleavage, which will often appear no matter what top you wear – unless you commit yourself to a life of turtlenecks).  But I'm not with him, so I wear whatever the hell I want. I don't have to take any opinion under advisement, and certainly not his own. I don't think I would have become a Zumba instructor if I were with him – I don't get the sense he would encourage it, as many conservative Christians (and Adventists in general) are against dancing.  And I don't have to put up a front and act more spiritually deep than I really am.  I can be myself.
I don't have to cower in the shadow of anyone for fear of upsetting or upstaging.  And I get to know myself.  One of Whitney Houston's last songs was one entitled "I didn't know my own strength."  How would I have known I was strong all by myself had my strength not been tested?  Being single has been one of the best things that has ever happened to me.  And those two things have been the greatest blessings ever.
Not to mention: I'm FREEEEE!!!  You can't put a price on freedom.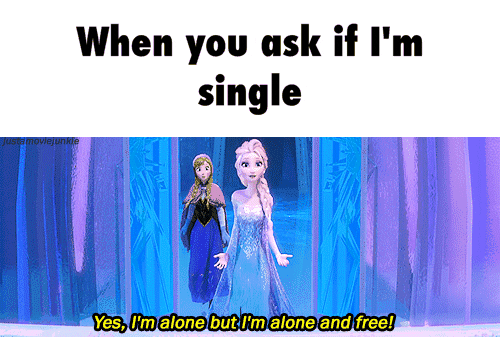 While there are times when I hate (read: abhor) being single, I know I will actually miss it when I'm married.  When it hits me that I am actually getting married, that it's actually happening, I will mourn this single life that I have to leave, because it had been my home for over three decades. It was never comfortable but it was familiar, and for the most part, enjoyable and necessary.  I'll actually miss being single because I've had mostly really, really good times by myself.  Like really good.
Sit in the Hot Loneliness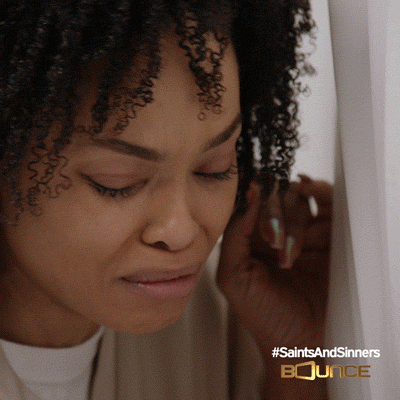 When I say "sit in hot loneliness," I'm referring to something that Pema Chodron had written.  Feel your feelings.  Mourn.  Grieve.  When I feel an episode of "woe is me-no body loves me-no body wants me-why is this my life-everything is hopeless,"  I give myself ten minutes to cry, after which I end the pity party. I have to get up and find something to do.  In her book, The Militant Baker suggests creating a go-to list of things that you know will boost your mood.  For me, it would be food, or watching a funny video on YouTube, or listening to music, or dancing.  And I've learned that if something refuses to go away, despite my best efforts, it serves a purpose and is here to teach me something.  So I try to mine its message and learn its lesson. I take solace in the following mantra: I am where I am supposed to be, and anything that is happening is what is supposed to happen.  What's meant for me will not miss me, and if it misses me, it wasn't meant for me.
Accept that Life Isn't Fair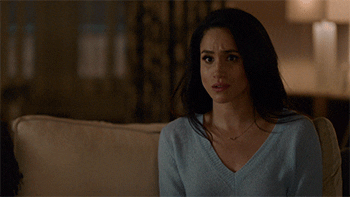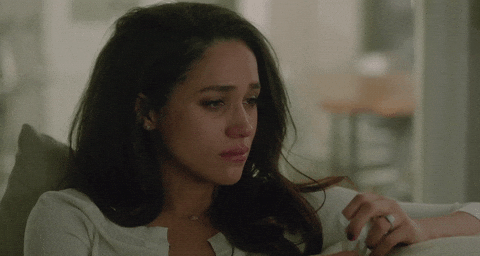 Life isn't fair.  I'm working on accepting this.
I mean, I knew this, but I thought that because I love Jesus that would make a difference.  I thought that a relationship with Jesus would help make my life more fair.  Life is not fair but Jesus is fair, so all is well right?
No.
Ask Rachel.  Ask Leah.  Ask Job. Even if he got twenty more children, he still lost his first set, and nothing or no one can ever replace those children that he lost.  I don't know where I got this idea that life is fair, and that I'm entitled to all the things I want and ask for, but I've been learning to disabuse myself of that notion.  When I look around, I see blatant injustice.  The wicked prosper.  Believers suffer. The fact of the matter is  that there is evil in our world and we are in the last days where "men shall be lovers of themselves".  Some of us will have to work harder.  Some of us will be passed over for things outside of our control.  Some of us may never marry despite doing all of the right things, while those who do the "wrong" things live happily ever after.  Me being single and finding it unreasonably hard is a result of living in a broken world.  I didn't break the world, and I'm doing my part, but I recognize that despite my efforts and wants and wishes, marriage may not happen for me.  It's not fair, but it's life.  And God may or may not make things fair.  Life isn't fair and I have to somehow learn to be okay with it.  It's when I insist on life being fair that I suffer.  It's the dissonance between my reality and my hopes/expectations that cause pain and despair and disappointment.
Set Boundaries and Indulge in Self-Care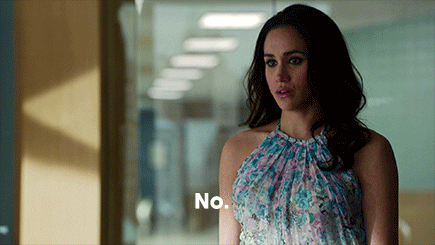 I called my aunt on Mother's Day.  She said, "Thank you.  I hope in a couple of years I can say the same to you.  I'm giving you two years."
Yeah… some people just aren't gonna get any more calls on Mother's Day.
I have friends who have told me that they had to stay away from social media when they were in a really bad singleness space.  I'm currently in a space right now where I cannot comfortably be around pregnant people.   I look away when I see couples holding hands.  I limit the time spent on Instagram.  I bought A Walk to Remember ten years ago and have only been able to watch it once since.  Church is the loneliest place for me.  I just can't right now. And that's okay.  I don't guilt myself over how I feel.  I feel how I feel and it is what it is.  I don't go to places or watch things or do things that will make me feel worse – even if those places are "good" places (like church).  It doesn't serve me. Bitterness needs fuel, and if I erect the correct boundaries, it helps to curtail the fuel source.
Being single can be really hard and really exhausting.  Carrying your own groceries.  Comforting yourself.  Encouraging yourself.  Taking care of yourself.  Paying your own bills.  Getting yourself to all of your appointments.  Cooking for yourself.  Running all of your errands.  Making all of the plans.  Being rejected.  Fighting against hopelessness and frustration and despair.  Giving yourself the pep talks. Trying hard to believe that the lack of dating prospects has nothing to do with your race or your size or your age or your accomplishments.  Reminding yourself that someone somewhere will find you attractive.  Convincing yourself that Black is still beautiful – it's all gets so very tiring.  Sometimes I don't have the energy to be brave.  Sometimes I don't want to be upbeat.  So if I need a day to myself where I don't talk to anyone and I remove all possible triggers, I do that.  I read.  I write.  And when I'm ready, I try again the next day.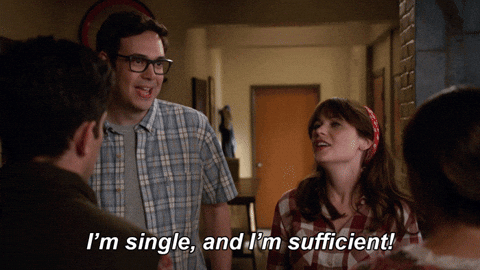 Remember Life is Happening Now
I don't have to wait for a man to live my best life.  I used to be sad watching young married couples around me making a home together.  I almost didn't buy my Vitamix because I thought that I would rather list it on my wedding registry and have my friends and family pay the $500 price tag (isn't that the whole point of a gift registry?  To make the people you love buy the expensive stuff you need?).  I'm so glad I ultimately bought the Vitamix, or else I wouldn't have a blender to this day.  Besides, when I get married, I'll just put another one on the registry.  My guests can just buy me a new one because I'll probably need a new one by then.
Insofar as I feel that I am "missing out" (aka FOMO), I realized I don't actually have to miss out on anything just because I'm single.  I can buy a house, I can have children,  I can go on vacation, , and to take a page out of Meghan's book, I can take myself out for dinner, I can go to the movies, I can buy myself flowers, I can draw my own bath, I can have nice things (i.e. furniture)… and for those who are comfortable with it, you can still have a sex life by yourself.  I try to live my life in a way where I don't feel like I have missed out on anything — even if I remain single.
Commit to Being Happy
I recently had a thought and I asked myself: "So… Do you intend on being bitter for the rest of your life if you remain single?"  And that's when I realized that I had a choice to make.  Bitterness and resentment have never served anyone, and it certainly won't serve me.  If anything, it will make me physically ill and mentally unwell, and I can't have that — I'm single, after all.  (I have to be healthy because I have no one to take care of me. lol.)
So while I will sometimes let my sour attitude run its course, sometimes I have to choose to be happy instead of bitter.  Bitterness is a choice.  No one is forcing me to be bitter; that is just the way I have chosen to react to my circumstances.  I know it's a choice because not all people in similar circumstances react similarly and are bitter.  I don't have to be bitter if I'm single.  Similarly, happiness is also a choice.  I tell myself, "this is the day the Lord has made.  I will rejoice and be glad in it."  Yes I may not like how my life is turning out.  But to the extent that I am unsuccessful in changing it or the things that bother me refuse to go away, I am going to enjoy the hell out of it and make due.
Sigh.  That felt good.  I feel better already. 😉