*Spoiler Alert* (also, get with the program and watch this show in real-time like the rest of us, lol.)
The episode began and ended with cunnilingus. *nods in approval* (How many times can you say THAT about a show?) After receiving some blow back over the infamous blow job of last season (see here), Insecure seems to have chosen a different approach this season.  It's nice for once to see women being pleasured on screen.  We saw this earlier in the season (or was it last season? It's all a blur…) when Molly was getting eaten out by Dro.  Usually sex on screen is focused on male pleasure.  I'm all here for the sexual justice and equality.
I don't think I'll be doing these re-caps weekly (we have Luuvie Ajayi and Insecuritea for that).  But, in a nutshell here's what I thought of Episode 3:
But I especially wanted to talk about this past episode because it gave perfect examples of the destructive nature of toxic masculinity and the clarity of continued consent.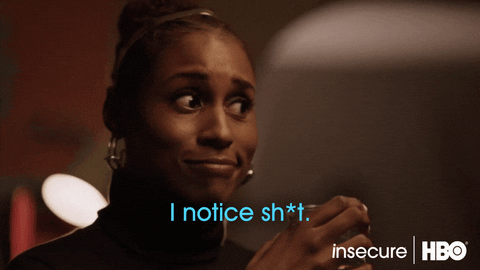 Let's talk about consent first:
In the age of #MeToo and #TimesUp, I am here for this.  And I realize that many people still don't know what is meant by "toxic masculinity" or "continued consent."
On continued consent, in the last scene, Daniel and Issa were in the bed that they have been sharing (Gurrrrrrrrrrl. Get your own bed! Weak neck my arse).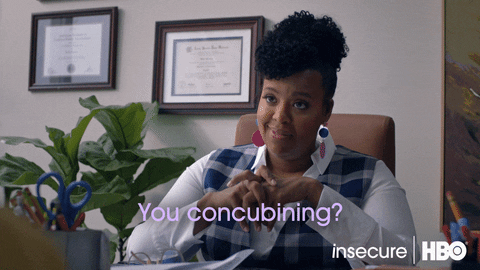 Daniel started to kiss Issa.  She seemed to enjoy it.  He then moved downwards and pulled down her pants and started to perform oral sex.  When Issa stopped being responsive, he looked up and realized that she wasn't enjoying it.  Issa confirmed this and said, "I can't do this. Just doesn't feel right."  Daniel, surprisingly, even though he is toxic masculinity personified, didn't protest, didn't continue to force himself, but instead he said, "Yeah," and rolled over.
That, my friends, is what we mean by continued, enthusiastic consent.  Issa withdrew her consent.  She did not give continued consent to what Daniel was doing.  Consent should be enthusiastic and continued and consistent throughout the sexual act.  Consent can be given AND can be subsequently withdrawn and that's okay.  You can be okay with the foreplay but not okay with anything afterwards.  You may not even be okay with the play.  You can go all the way (heyyyy! You see how I'm rhyming here?  Issa ain't got nothing on me) to the point where he is inside of and/or on top of you.  But as soon as you say no, it's gotta end.  He needs to pull out. He needs to stop. You can say no, just like Issa. And "no" is said in many ways: "No" may sound like unresponsiveness, or silence, or hesitance or "I can't" or "This doesn't feel right." That's still no.  No means no.  No means stop. However you say it, whenever you say it, it must be heard and respected. And not only is that okay — it's ethical and legally mandated.
And now, onto toxic masculinity! Yay!  I've written about toxic masculinity before:
On toxic masculinity, I speak of it in the sense that one's masculinity – one's maleness or how one defines one's maleness or how it presents itself and is made manifest in society – is poisonous and harmful to those around the man in question (and, might I add, to the man himself).  Among other things, toxic masculinity shows up in the idea that men are violent, unemotional, and sexually aggressive.  That does not necessarily mean a man who exhibits toxic masculinity is necessarily a "bad person" per se – it just means that he needs to become a better man.

Toxic masculinity permits the male subject to bask in his entitlement and have the great privilege of not having to care about the comfort of the other party ("real men aren't empathetic or show emotion").  Women also don't have to care and don't have to play along, but we often do in order to keep our jobs and save our lives.  For women, it's about self-preservation.
In case I was somehow unclear, some examples of toxic masculinity include:
The pervasive idea of male-female interactions as competition, not cooperation.
The pervasive idea that men cannot truly understand women, and vice versa–and following, that no true companionship can be had between different sexes.
The expectation that Real Men are strong, and that showing emotion is incompatible with being strong. Anger is either framed as the exception to the rule, or as not an emotion.
Relatedly, the idea that a Real Man cannot be a victim of abuse, or that talking about it is shameful.
Men are just like that: the expectation that Real Men are keenly interested in sex, want to have sex, and are ready to have sex most if not all times
The idea that Real Men should be prepared to be violent, even when it is not called for.
Though not reinforced much in fictional media, in real life it is widely expected that a man would abandon his pregnant girlfriend, being incapable and/or unwilling to take responsibility, feeling little to no attachment to an unborn child, and expecting pregnancy and motherhood to not only change but ruin the girlfriend and the relationship.
The myth that men are not interested in parenting, and are inherently unsuited to be single parents.

discourages men from becoming involved in the lives of their children.
encourages household inequality, which hurts all involved.
assumes that in case of divorce, children will go with their mothers, instead of examining each situation individually.

Emasculation: the idea that there is a range of feminine interests and activities a Real Man would not hold, and that disprove a man's masculinity regardless of his other actions:

interest in one's personal looks, cosmetics, dressing up, fashion
being emotional, expressing emotion, crying
appreciating "frivolous" things such as sugary "girly" drinks, romantic styles, cute animal videos, romcom flicks
understanding women, being sympathetic[1]
being silly, giddy
needing help, not-knowing
and so on.
In this episode though, Daniel gives us great examples in action:
Issa mentions to Daniel that she has a potential job offer as an apartment manager, and instead of being happy for her, he makes sure to knock her down a notch: "You locked yourself out of my apartment four times" — casting doubt, implying that she's not a good fit for the job and that she can't handle it.  Just because no one likes your music doesn't mean Issa can't have gains in her life.  #competition.  "What you gon' do when tenants don't pay their rent?  You gonna shake somebody down?  You ain't tough,"  he says. *rolls eyes*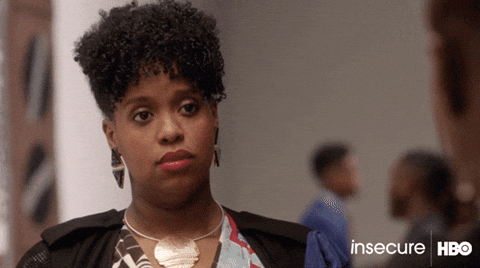 Yeah, we can all be romantics and say that Daniel is #inhisfeelings for Issa and he doesn't want her to leave, and we can allow ourselves to be dickmatized by how fine Daniel is, but if we are truly gonna be about the "glow up" and "grow up" and "growth" (cue Kelli), then we need men and friends who celebrate us when we are trying to do better. (If only I could exercise and inject this level of discernment and wisdom and insight in my own life. *sigh*).
One of the guys in the music studio was watching "This is Us" and Spider shades him for it and the others laugh.  "This is Us" is known for being a sentimental, tear inducing show.  I smell emasculation?
Then there's Daniel and his ego… typical fragile male ego. Can't accept help (*cough* Khalil *cough*) or good, sound advice from people who care about him (*cough* Issa *cough*).  Must always knock someone down to puff himself up.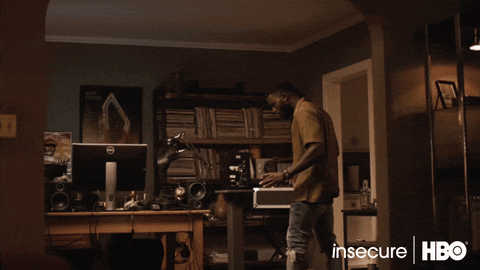 Instead, he laughs and snorts at the idea that Issa would give him "career advice" (read: common sense) and instead replied, "I just think it's funny you giving me career advice. You don't know what it's like to work hard for something Issa."  Not all men have a fragile ego (of course), but there's enough of them to be a problem.  Daniel is unable to use his words, or rather uses them ineffectively, and instead takes it out on Issa when she takes him out for lunch to thank him.  I will give him a pass for showing some emotion (frustration, anger), but it's interesting that he only shows the emotions that are socially acceptable for men.  He doesn't let on that he is sad to see Issa leave.  After all, men aren't allowed to be sad.
Daniel hurt Issa's feelings by telling her that he always has to save her (what makes you think that you have to save Issa?  Who died and made you the hero?  Issa is her own hero.  She's leaving you.  That makes her Wonder Woman. Best believe.).  The last scene of the show has them both lying in bed together, back to back — talking, but not really.  "You know I was just upset about the Khalil thing?" he says. But instead of just apologizing, he'd rather just kiss her arm, pull down her pants, and go down on her, reinforcing the idea that men cannot communicate, do not have emotions, and just want sex:
It's lazy.
But all is not lost. Toxic masculinity can be unlearned; consent can be taught (unless you are a student in Ontario — that's another story).  People are allowed to change and evolve and develop, and that continues to be my hope for Issa, Daniel, Molly, DRO (!!!!!!) and the rest of us.
Featured Image Photo Credit: ETOnline